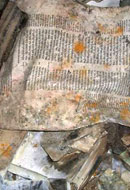 I
n the latest twist in the long-running tug-of-war over the Iraqi-Jewish archives, Washington has only just been allocated the $3 million required for their restoration. Officials of the Iraqi government have been demanding back this important part of its heritage, although not all of them - the Kurdish deputy foreign minister Labid Abawi prefers the archive to remain in the US, until it is restored. This
AP piece in
the San Francisco Chronicle
omits one crucial detail: the Jewish archive was stolen and forcibly seized by the Iraqi secret police from private Jewish homes and synagogues: (with thanks: Michelle and Gina)
Discovered in a basement used by Saddam Hussein's secret police, the collection was sent to the U.S. for safekeeping and restoration, and sat at the National Archives and Records Administration (NARA) in Maryland until last year, when Iraqi officials started a campaign to get it back.
Initially contacts went well, but now the deputy culture minister, Taher Naser al-Hmood, says "The Americans are not serious" about setting a deadline for getting back the archive.
U.S. officials deny that they are delaying its return. They say they only recently got the roughly $3 million needed to clean up the materials - the whole point of bringing them to the U.S. - and they question the rush to return the collection now, when the goal is so close.
"It is not U.S. government material, and we have every intention of returning it," said Phil Frayne, a spokesman for the State Department's Bureau of Near Eastern Affairs.

"We understand the frustration over the delay but we're happy that this is going to finally move forward," he said.
But al-Hmood was skeptical, saying he had not been told about the money. "Let the American side prove its goodwill," he said. "We cannot trust the Americans. They have not fulfilled their previous promises."
The case is complicated by the knee-jerk suspicions that cloud everything related to Jewish history in the Arab world, Iraq's attempts to assert its sovereignty after years of U.S. domination, and a diaspora trying to recover its history.
There are claims of Jewish pressure to prevent the return of the collection, and questions about why the U.S. didn't prevent the looting of Arab and Islamic treasures during the invasion but was able to bring the Jewish collection to safety in America. Among those voicing indignation about the transfer of the archive to America is Liwa Smaysim, the minister of archaeology, who belongs to a fiercely anti-American party in the government coalition.
On the other hand, once returned to Baghdad, the archive would likely be beyond the reach of Jewish scholars, especially Israeli ones, given the absence of diplomatic ties with Israel, and the anti-Semitism that exists here. Iraqi officials have vowed to restore the materials and digitize them so they're available outside of Iraq as well.
Besides parchments and photos accumulated over the years, the collection includes books printed in Baghdad, Warsaw and Venice, one of them a Jewish religious book published in 1568, and 50 copies of a children's primer in Hebrew and Arabic.
They are the lost heritage of what was once one of the largest Jewish communities in the Middle East, which dated to the 6th century B.C. and ended with an exodus after the creation of Israel in 1948. Today fewer than ten Jews are believed to be left here.

Same article in the Daily Mail
Same article in the Daily Star
Same article in Jewish Ideas Daily (with thanks: Eliyahu)
Same article in Art Daily News (with thanks: Tom Gross)